Designing a bug out bag seems simple at first: buy a backpack, fill it with survival stuff, and you are all set! In reality, there is a lot of thought involved in properly sizing and packing your bug out bag – it all starts with the bag itself.
The best size backpack for a bug out bag has a whole lot of variations depending on the size and weight of the individual carrying the backpack, the fitness of that individual – mainly the endurance they have to pack the bag, and how long the bug out is going to last.
In this article, I will help you find the best fit for your bug out backpack, what size of backpack capacity to choose, figuring out how much weight you can carry, and backpack recommendations according to capacity and height.
Once you are done figuring out the size and fit of backpack you need, I suggest heading over to my Ultimate Guide To Bug Out Bags: Contents Listed and Explained article for a list of the gear you need to put into your bag. I include average item weights so you can figure out the final weight of your bag, a crucial factor in design.
Step One: Figure out how long you will be bugging out to determine capacity.
The most crucial step in determining the best size bug out backpack is to figure out how long you will be bugging out for. Figuring the time frame out will help you figure out the liter size capacity needs of your backpack.
First you need to factor in who, where, and how you are planning to bug out. I have written a comprehensive Guide to Bug Out Theory that will help you determine your bug out plan.
A typical bug out bag lasts for 72 hours, but can be as little as 24 hours and up to 5 days, or even longer. You may find yourself going into a long term survival situation after bugging out, which means your bug out bag may have to last indefinitely.
You also want to choose a bug out bag that will last as long as you need for an on foot journey. Do not assume that you can throw your bag in your vehicle and drive away. There could be riots, barricades, and blocked roads. You may be half way through your bug out journey and run out of gas or need to ditch your vehicle. There are too many variables to rely on a vehicle to bug you out, so prepare to hoof it!
As a general rule of thumb, liter capacity corresponds to days:
1-3 nights – 30 to 50 liters

3-5 nights – 50 to 80 liters

5+ nights – 70+ liters (source)
For backpacks over 60 liters, Cody recommends that you purchase a higher end backpack with a frame. These large backpacking packs take experience and endurance to haul out and is not a good choice for beginners or people that do not have the fitness to haul these types of packs.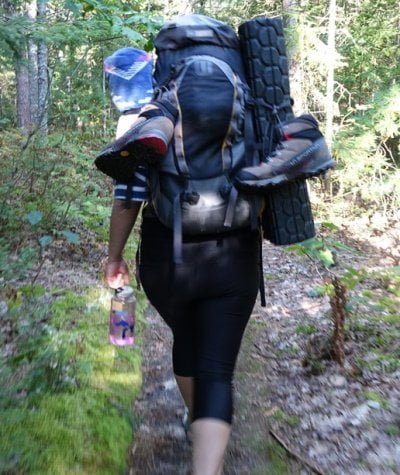 The reality is that a bug out backpack shouldn't be a huge pack. It should be something easy to grab and easy to pack. Another downside to hauling a backpacking pack is that it is obviously full of goods, making you a potential target.
40 to 50 liter bags make for an ideal bug out size. If you are smaller in size and weight, then aim for a 30 liter bag.
PRO TIP: Leave extra storage room in your backpack if possible to accommodate items you find along your trip. This could be space for water, foodstuffs, clothing, materials.
Step Two: Figuring out how much weight to put into your bug out backpack
How much you can carry and how long you can carry will determine what and how much you will put into your bug out backpack. This is a unique situation for each individual. Fitness, stamina, endurance, age, and whether you smoke or not can greatly influence the weight you can handle.
As a general rule of thumb:
A backpack should not exceed more than 20% of your body weight.
Example: If you weigh 180 pounds, then your backpack should not exceed over 36 pounds.
Packing the right amount of weight is difficult to achieve when planning to bug out as you will find your pack gets heavy quite quickly, especially when packing ammo and water.
I suggest to start out by weighing your absolute base essentials to get your base weight. For petite individuals, the base essential weight may meet or exceed your carrying capacity, and you may have to overextend your carrying weight.
An easy way to weigh your bug out bag is to step on a scale without the bag on first and weigh yourself. Then step onto the scale with the bag on. Deduct your body weight from the total weight with the bag.
PRO TIP: Plan your bug out journey along a water source so you don't have to pack so much potable water from the beginning.
Step Three: Getting the right fit for your bug out backpack
Not too many people (aside from avid backpackers) consider the actual fit of their backpack. I think fit is a crucial factor when choosing the best bug out backpack because you will want to be as comfortable as possible while hauling gear through a survival situation.
Instead of relying on your overall height, you will want to measure your torso for correct fit. You also want the backpack waist belt to correctly fit as your hips should carry the majority of your backpack weight.
How to measure your torso correctly:
Start with your C7 vertebrae of your back. This is the vertebrae that aligns with your shoulders.
Measure down to the tops of your hips.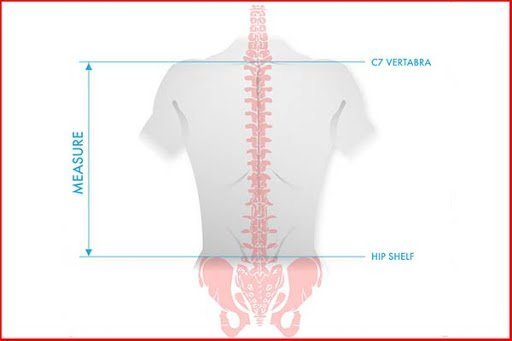 Now different backpack brands have different measurement increments, but the general size estimate is:
Extra small – 15 inches

Short/Small – 16 to 19 inches

Regular/Medium – 18 to 21 inches

Tall/Large – 20 to 23 inches

Extra large – 22 to 25 inches (source)
Step Four: Consider the features of the backpack
Adding in pockets, hydration reservoirs, and comfort features like ventilation and frames, can all enhance your bug out. However, these items can add additional weight to your pack.
I suggest looking into a backpack with a MOLLE system so you can add in additional pockets and hang tools from your pack without having to compromise the main space of your bag.
MOLLE is the webbing you see on tactical backpacks that allow for you to add to the pack through a series of smaller pouches that attaches with D-rings or carabiners.
PRO TIP: You can pack a smaller bag within your larger backpack in order to shed some weight and size if needed amid your bug out trek.
Bug Out Backpack Recommendations
We have compiled a curated list of backpacks that we feel would make for excellent bug out bags. There are three sections: Small, medium and large. These classifications are based upon the liter size capacity of the backpacks and the torso length of the bag.
The BEST Bug Out Bag Backpack:
First Tactical Specialist 3-Day Backpack
Backpack Specs
56 Liter storage capacity
4.5 lbs weight
Made of 1000D water resistant nylon
Duraflex hardware
This mid-weight backpack has the storage capacity perfect for a 3 to 5 day bug out journey. The 1000D nylon material promises for a rugged pack that will last.
I love how the manufacturer actually uses high quality materials, hardware, and zippers, promising for a heavy duty backpack that will last in the most rugged conditions.
There are a ton of pockets, 7 external and 3 internal pockets, so you can organize your gear nicely. The shoulder straps are super wide and padded for comfort on long bug out treks.
The backpack has a hook and tang compartment that is compatible with their rifle sleeve accessory (not included).
This backpack has raving reviews by its users; it was designed by professionals for professionals.
That being said, this is the most expensive backpack that I have mentioned here. As we all know, you get what you pay for.
Overall, First Tactical has done an excellent job of making what we consider the best backpack for bugging out. It does come with the pricetag, however.
Lightest and most inconspicuous backpack:
ZOMAKE 30L Lightweight Packable Backpack
Backpack Specs
30 liter storage capacity
Torso length: 19″, 4″ deep
.75 lbs weight
Folds into small pocket
Water resistant
What I like about this backpack is that it is totally inconspicuous. You can throw it over your shoulder and run out the door without bringing any attention to yourself. I also like that the pack itself is super light and folds into a tiny pocket making it an easy additional pack to carry in a larger backpack.
I also like that it has a very low price point – it is super affordable for anyone to purchase. Users have reported excellent reviews on this backpack. It should hold out very well in a bug out situation.
Do note that there is no waist strap and the pockets are quite limited. You get the main compartment, two smaller outside pockets, and two side pockets. There are attachment points for pouches, however.
Overall, if you want a backpack that is super lightweight, inconspicuous, and are only trekking for a short period of time, then this backpack would be a good fit.
Super affordable and small lightweight pack:
Mardingtop 25L Tactical Backpack with MOLLE
Backpack Specs
25 liter storage capacity
Torso length: 17″, 7″ deep
1.64 lbs
hydration compartment (bladder not included)
MOLLE system
This sleek designed MOLLE backpack is still inconspicuous yet has some heavy duty features that will last during a bug out trek.
I really love the waist strap. It is padded with foam and is thick for extra carrying comfort. The shoulder straps also have sponge padding which is nice for long treks. The backpack also comes with a sternum strap for more support.
The backpack has a main compartment, a secondary compartment, a front pocket, and side pockets.
Users have left mostly good reviews, but some have reported a strange smell to the backpack, likely to be a chemical factory smell. The backpack is also not waterproof. The price is fairly low which does reflect its quality.
Overall, this is a good small MOLLE backpack for its price point.
Rugged yet small military pack:
Armycamo Small Military Tactical Backpack
Backpack Specs
34 Liter capacity
16.5 x 11 x 9 inches
3 liter hydration compartment (bladder not included)
Side buckles for security
MOLLE system
Water resistant
Now this is a nice military backpack and is small in size! I would say this is the least inconspicuous pack on this list as far as a low profile goes, but it packs a lot of liter space in comparison to its dimensions.
The back and shoulder straps are heavily padded, good for long treks with a heavy load.
What I love about this backpack are all the pockets and compartments. There are two main compartments and a seperate hydration bladder area. There are also several smaller pouches within the compartments. You can really organize your stuff with this bag.
Users have reported very good reviews of this bag. No reports of ripping or cheap materials. People are a little surprised to see how small the bag is in person, since it looks so much bigger in the pictures.
Overall, this is a great tactical MOLLE bug out backpack for those that are smaller in frame or don't want to carry a large bug out bag.
Best Quality and Value Midweight Bug Out Backpack:
SOG Opord Tactical Day Pack
Backpack Specs
39.1 liter storage capacity
22 x 12.7 x 7 inches
Lifetime manufacturer's warranty
hydration pocket for water (bladder not included)
MOLLE webbing system
weighs 4 lbs
SOG makes a pretty good quality knife – and they also make a pretty good quality bug out backpack for the price point.
The liter storage is quite large and the bag is big, you should be able to fit everything you need into this backpack for bugging out.
There are a decent amount of pockets, a main compartment with mesh sleeve, a hydration compartment, two side pockets, and a front pocket.
Basically, this bag will get the job done, no more and no less.
Users are very happy with the quality of the bag in relation to the price. It lives up to the SOG standard which is a good product for the price. Not great, but good.
I do like that it comes with a lifetime manufacturer's warranty as long as you use the pack under normal situations.
This concludes our article about the best size backpack for a bug out bag. I hope that you found this article informative and it helped you decide on the right bag for you. If you have any questions or comments, please leave below!